Products and Services
»
Super Solo Ads
»
Extreme Traffic Pack
»
12 Memberships FREE for LIFE
»
FREE Classifieds
Free Stuff
»
Internet Marketing For Newbies
»
FREE Classifieds
Free Traffic Packages
»
500,000 Mega Ad Credits
»
Promote To ONE Million
Brought To You By
Sandi Hunter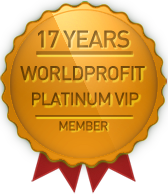 Published by: Sandi Hunter on 20-Nov-13
With 10 days left in the month, WHO will be November's Top Seller?
These are our current TOP 10 Sellers - working hard to build their online business.
1. Linda Elze
2. Wallace Johnson
3. Dori ONeill
4. Jay Petersen
5. Leo Laurent
6. Brenda Shaylor
7. Pam Sudo
8. Cindy and Jeremiah Johnson
9. Dale Thomson
10. Howard Martell
Want to know the secret to being a Top Seller?
Do YOU want to be on the TOP SELLERS list?
- Promote consistently - every day if you can
- Follow the bootcamp training lessons - FOCUS and DO what George Kosch teaches. It works!
Speaking of George Kosch he just told me this....
During Friday's Bootcamp Training, member will enjoy a sneak peak at a new Autoresponder Sequence we are working on, AND give you an update on the planned release for the new Reminder Service/Task System.
Bootcamp Training is FRIDAY at 8:00 AM CT.
Access is within your Worldprofit Member area. The program is also recorded for your convenience.
Resource